CE-LEAN-1002
-
Lean Six Sigma - Green Belt
1030078
Course Description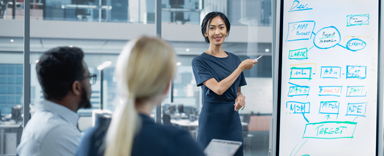 If you're looking to increase productivity and efficiency in your organization, the Lean Six Sigma methodology is a great tool to have at your disposal. This process is designed to reduce issues like wasted time and money and increase profits as well as customer relationships. By the end of this course, you will have the tools and methods you need to improve processes across your organization, and you'll also be ready to take the Lean Six Sigma Black Belt course.

Is This Course For You?

Little to no experience in Lean Six Sigma is needed to take the Green Belt course. Even though this is the second course in the Lean Six Sigma program progression, you're not required to have taken the Yellow Belt course as a prerequisite for this course.
Lean Six Sigma is not just for the manufacturing industry – it can also be useful if your team works in healthcare, services, education, or government. No matter what sector you work in, if you want to streamline and strengthen your processes and projects, the Green Belt methodology will help you achieve your goals.

What You'll Learn

During the Green Belt course, you'll be gaining the tools and knowledge you need to improve processes at your company and in turn cut down on costs, become more efficient, and improve customer relations. The Lean Six Sigma methodology helps you learn how to identify problem spots in your processes and implement plans to improve them. Since you'll be working on a real-world project from your company, you'll be able to learn not only the theoretical ideas of how to make your processes more efficient, you'll also learn how to actually apply the concepts and use the tools you're learning.
When you finish this course, you'll be able to improve your bottom-line results by finding inefficiencies and learning how to implement lasting changes to fix those problems. The solutions you'll create are data driven and follow a proven process for improvement, so your training will be a valuable resource for years to come on many projects past the one you work on during this course.

How You'll Learn

There is an on-campus, in-person course that takes place one day each week for twelve consecutive weeks. During the in-person sessions, you'll review material and work on a real-world project so you can implement what you're learning immediately and see the results of Lean Six Sigma methodology in real time.
There is also a blended online version over 13 weeks that keeps you actively engaged with instructor and other program participants while still providing flexibility to meet your other commitments.
For both in-person and virtual courses, each week you should expect to spend 6-8 hours working on the course material, most of which will happen during your in-person classes, as well as 6-8 hours of work on your project.

Skills You Walk Away With

By the end of this course, you will be able to:
Generate data-driven solutions for workflow inefficiencies to help reduce waste and improve productivity.
Improve customer satisfaction by improving your results while cutting costs.
Enhance productivity by removing inefficiencies from your workflows and procedures.
Significantly improve bottom-line results by saving your company time and money.
Become a valuable internal resource for your organization.

Loading...
Enroll Now - Select a section to enroll in
Required fields are indicated by .