CE-TCOM-1001
-
Technical Communication Essentials
1029948
Course Description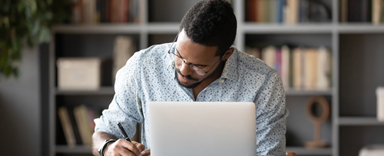 Knowing the best way to communicate technical information goes past just knowing what words to use – it also includes knowing the best format for sharing the information by analyzing your goals and audience. Effectively communicating key information is important across a range of industries, which is why adding technical communication skills to your resumé can help you land your next job or promotion. Whether you work in tech and want to learn more about writing technical instruction manuals or work in finance and want to learn more about effective project planning strategies, Technical Communication Essentials can help you upgrade your skills and your career.
Is This Course For You?
Whether you're looking to start a career in technical communication or you want to add technical communication skills to your resumé to take the next step along your career path, this course is for you. This course is the first in our Technical Communication Mastery Certificate, but it can be taken as a standalone course if you're looking to learn about what technical communication is and how you can use it to grow your career. Technical communication is in high demand in many industries including tech, health care, IT, education, business, and more, so adding these skills to your resumé can help give your career a boost regardless of your current role.
What You'll Learn
During this course, you'll be introduced to essential technical communication concepts and topics to establish a solid foundation for your technical communication knowledge. There are a variety of ways that technical communication is used, and this course will cover a range of those applications including project planning, project analysis, and written communication. You'll learn about different types of technical communication as well as how to assess your audience so you can choose the most effective way to communicate information to them.
How You'll Learn
Technical Communication Essentials is a fully online and asynchronous course. That means that while you will have to devote a number of hours a week to your coursework, you can choose the times that work best for your busy schedule and learn when it's convenient for you. Each week of the course will have a different focus, and each week will include a graded activity as well as a discussion prompt that allows you to think more deeply about the topic you're learning about and engage with your classmates.
Skills You Walk Away With
By the end of this course, you'll be able to:
Explain how to map information needs to various audiences, including conducting audience analysis and determining context of use.
Explain implications of working with global audiences.
Explain project planning in a technical communication context, including milestones, outcomes, and deliverables.
Explain how to use appropriate styles in common components of technical communication genres.
Explain the choice of appropriate styles in common genres.
Loading...
Applies Towards the Following Certificates
Enroll Now - Select a section to enroll in
Required fields are indicated by .